Discover more from Thinking Loud
I overshare on topics around career and life.
Why aren't we more bothered by ads?
Hey there. This is my perspective on entrepreneurship, learning, and life.
If you haven't already, would LOVE if you subscribed.
Thank you so much for reading. ✌️
---
THINKING LOUD
The year is 2030. You wake up to your Amazon Alexa™ alarm. It has already alerted your Keurig™ coffee maker to start brewing. Meanwhile, your Google™ emails are being downloaded through your Neuralink™ brain machine-interface.
And while I'm alarmed in the way brands have integrated themselves into our homes, I'm terrified by the future of advertising made capable by that reality.
Without issue, I left my old TV behind in Michigan. I was going to take creating YouTube videos more seriously, write more, and focus on my budding new role as a Product Owner. And so I would go on to create 16 YouTube videos across four months, establish myself as a writer, and dive deep into my career.
For almost a year, I fought off bringing a television back into my life. It felt like a poor use of my time considering the aforementioned goals. But as I've come to appreciate work-life balance more, it felt like a positive way to unwind.
And so, amidst the craziness of life, relaxation came in the form of a shiny new Samsung™ television. Stamped with a shiny Geek Squad™ warranty. Beautiful.
I set it up. Turned it on. Hell's Kitchen screamed through my apartment.
The new television auto-plays advertisements every time I start it up. I frantically tried to escape out. My efforts were rewarded with an array of strategically placed television and movie ads. Above that, I couldn't make it through a playlist on YouTube due to the constant interruption.
And yes, I probably also bought a bad TV. But there's more to consider here.
Ask yourself: at what point will I be bothered by these advertisements?
They're everywhere. I can't walk four feet without getting punched in the face by a brand. They're on social, on the packaging in my house, on my tv, over the intercom. Everywhere.
Illustratively, of four transformers movies, can you guess the number of products or brands placed in each?
Transformers: 54 Brands

Revenge OTF: 45 Brands

Dark Side of the moon: 68 Brands

Age of Extinction: 55 Brands
That's absolute insanity. Sit on that for a second.
There are a few core reasons why advertisements and brand placement fundamentally bothers me so damn much, and why they should bother you too.
Artistic integrity is often lost. Consider the example above. When you're considering how to integrate 68 different brands into your movie, all at varying advertisement length, you're writing a commercial. Not a movie. As someone who really appreciates art at all levels, it devastates me.
It feels entirely disingenuous. How many Instagram influencers actually consume these products? There's a popular Youtuber I follow on Instagram - I'm pretty sure they've endorsed every single eCommerce snack imaginable.
There are entirely better, and more sustainable ways to make money. And sure, I don't currently command a revenue from Google Adsense. So this is all opinion. But I can point you to any number of creators that have gotten demonetized. You have no control of your brand and you essentially become a walking billboard. Awesome.
It's the same reasons why popular content creators are creating podcasts, building newsletters, migrating to communities, crafting clothing lines, and so much more.
In a live stream with Nat Eliason (founder of Growth Machine), he mentioned that we've pretty much trained ourselves to ignore sidebars on websites. He is someone who has a core responsibility to optimize websites for functionallity. And sidebars are useless to him because we're trained to ignore ads.
It worries me that not only do many of us seem not bothered by the intrusion of ads in our every days lives, they're normalized so much that we've become entirely desensitized to them.
And so, yes, ultimately I am just a guy that is mad that he made a poor purchasing decision. But at a broader scale, I'm pretty worried about what we're subjecting ourselves to without even realizing it. There's something really ethically gray about all of the subliminal (or not) messaging.
Over the weekend I flew to New Jersey. I nestled into my uncomfortable economy seat, plugged in my headphones, and began to unwind. A voice came over the intercom.
As opposed to a mission-critical warning about our flight-path, instead, I was handed a nice advertisement for a United Airlines credit card.
Listen, I'm just tired of them. I'm tired of being sold all the time. It's utterly intrusive.
Lately, it feels as if we've traded in the grimy used car salesman of the past for something so much worse. The used car salesman has gotten smart. He has infiltrated our entertainment, our commute, and our life.
It's just as much as in your face, except we tolerate it now.
---
The Theory of Constraints
Every single person in business should dedicate an afternoon to reading about Tiago Forte's writing on the Theory of Constraints. The core concept of the idea is that any time spent fixing problems that aren't related to the bottle-neck are a waste.
Illustratively, if you're the manager of a busy cafe, any increase in throughput from either the hostess (front end) or the wait-staff (back end) is useless if the tables don't turn fast enough. Instead, you need to optimize for the best level of flow by properly understanding the four principles below.
Again, I highly recommend you read through every part of this.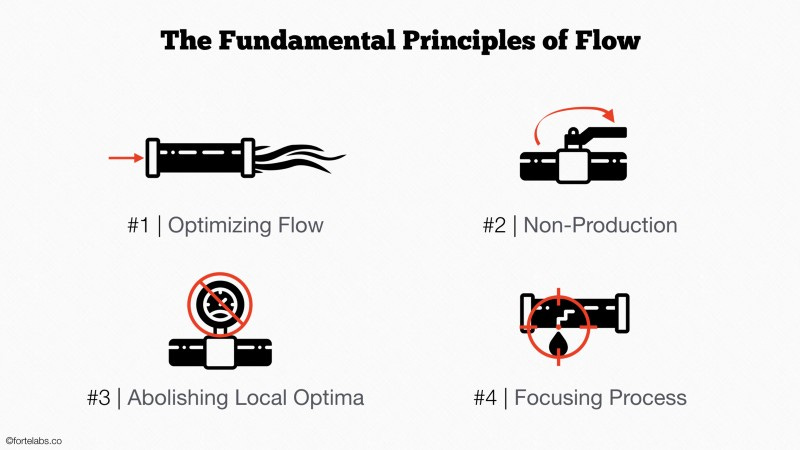 ---
Flying out east
Over the weekend I flew to the east coast to see my family & friends. It was some much needed time away. I'm always amazed at how easy it is to pick up things where they were left off with my friends out east.
My buddy that picked me up from the airport said: "your friends are the family you choose."
I've been thinking a lot about that phrase, and who I have chosen up until now.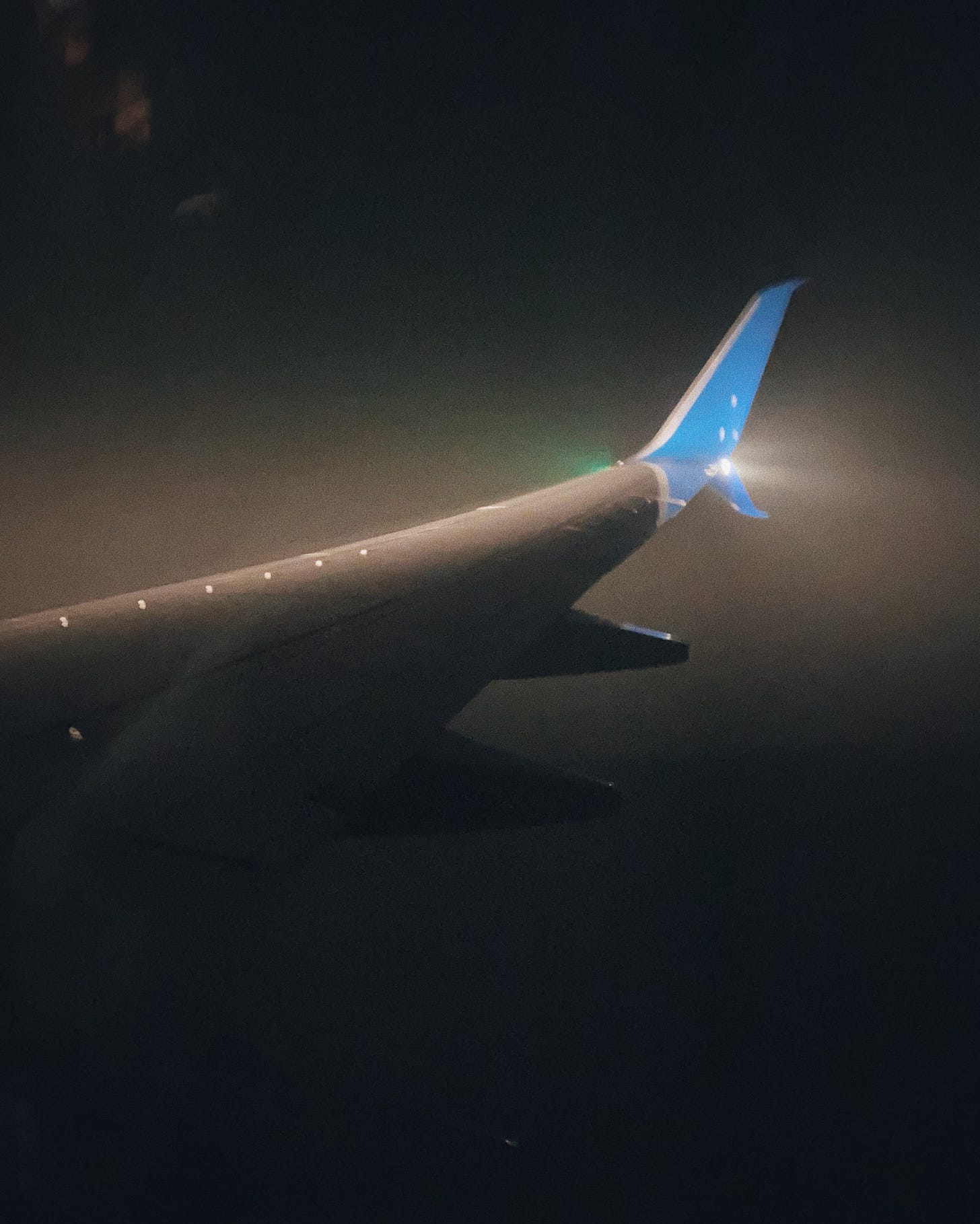 ---
Writer's Bloc
We had Carol Ann Schwiebert speak to the group about writing cover letters and resumes. It was an easy going chat with everyone. And super fun.
I really like these weekly writing hangouts.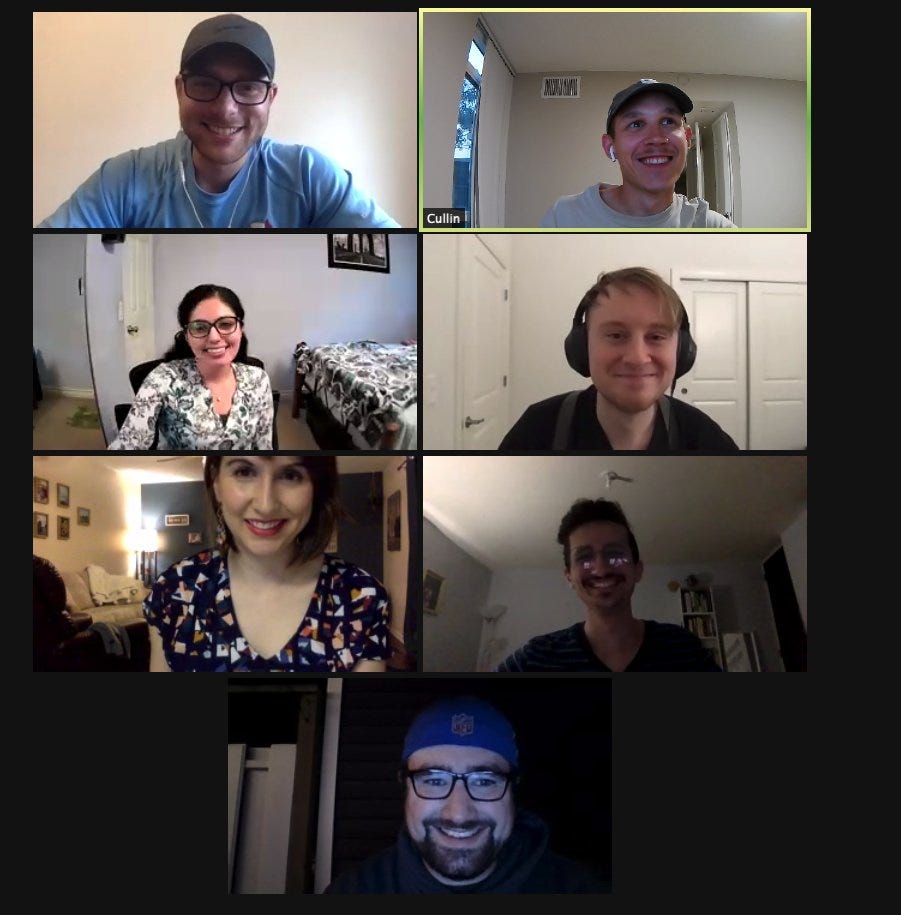 Until next time,
Cullin